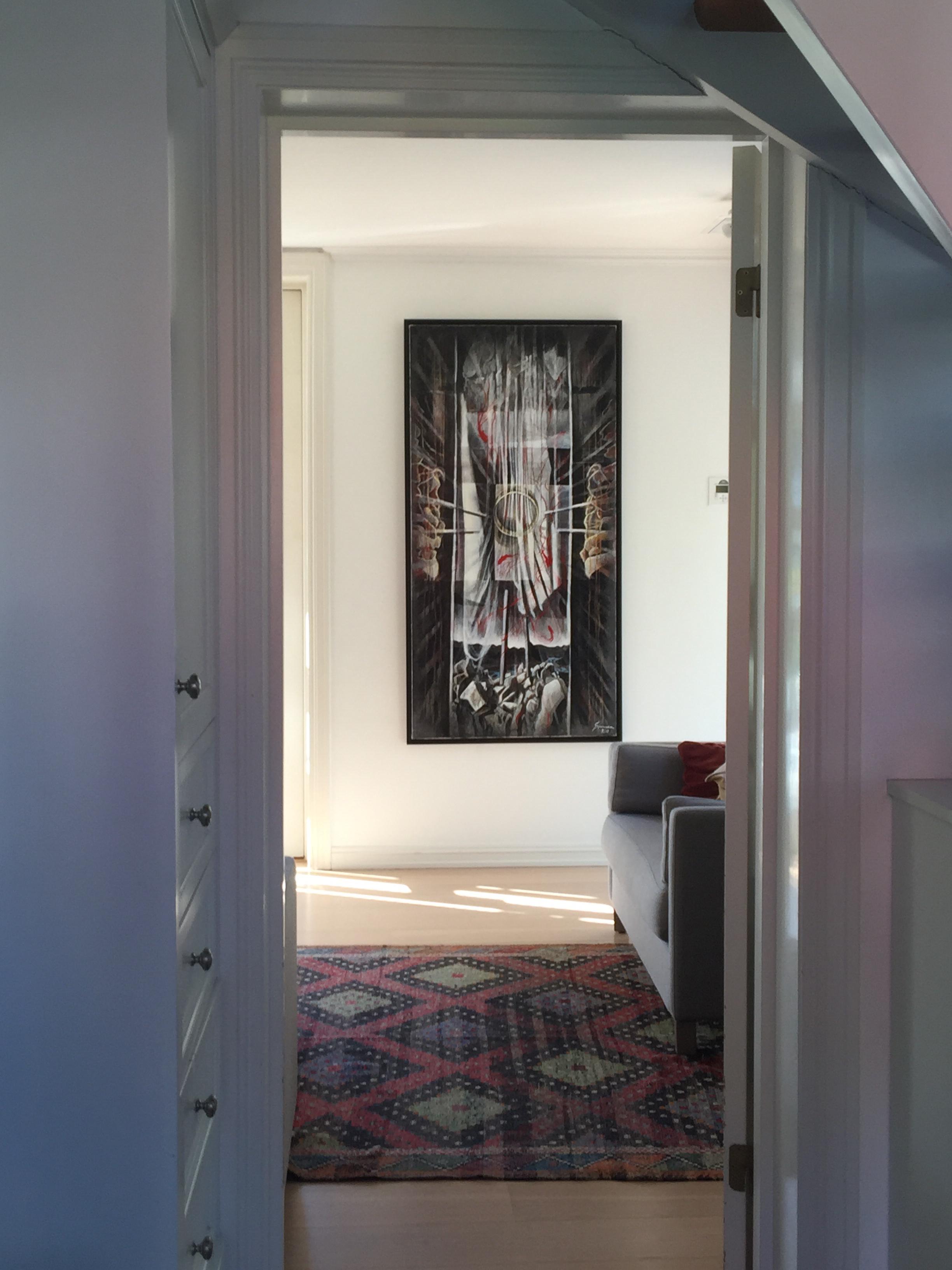 20-årsdagen | 20th year anniversary wedding gift
75x180 cm
original painting
acrylics on canvas
COMMISSIONED: SOLD
2018 (c) Ingrid Sørensen, all rights reserved

From facebook 7. september 2018:
Her er ett av de siste maleriene jeg har malt, et bestillingsverk som ble ferdigstilt tidligere i sommer. Bildet har tittelen "20-års dagen", tittelen er 'inspirert' av Odd Nerdrum's trykk "1-årsdagen", som allerede henger på veggen hjemme hos oppdragsgiver Jaan Ivar Semlitsch. Ferdig innrammet måler bildet 90x180 cm og det ble malt over en periode på 4 måneder. Maleriet ble malt i anledning 20 års ekteskap mellom Jaan Ivar og hans kone, og med litt god planlegging fikk maleriet sin plass på veggen noen dager før bryllupsdagen, mens fruen fortsatt var på ferie i utlandet. Dette har vært en spennende prosess, og jeg er veldig takknemlig for muligheten jeg ble gitt til å male dette bildet, og for å kunne hjelpe til med en spesiell, litt annerledes jubileumsgave. Ser fram til hva høsten bringer, og til å bli litt flinkere til å dele prosjekter med dere på sosiale medier framover, håper på mer som dette!
//
The following painting was made for Jaan Ivar Semlitsch as a 20th anniversary wedding gift for him and his wife this summer. It has been an exciting process, and I am grateful to be able to bring something meaningful into someone else's living room and help make a meaningful celebration gift like this. The painting was hung in the living room while his wife was on vacation, and painted in a period of aboout 4 months. The painting is called "20-årsdagen" (meaning 20th Anniversary), measures 90x180 cm framed. The title is inspired from Odd Nerdrum's title of his print "Ettårsdagen". In the middle is a wedding ring, around it are five creatures representing the members of the family, and further to the edge of the painting are the abstract traces of a landscape where they like to go for walks.
Looking forward to the next projects coming up this autumn, and to share more on social media again. Hoping for more like this commission! :)